Greater Bridgeton Area Transit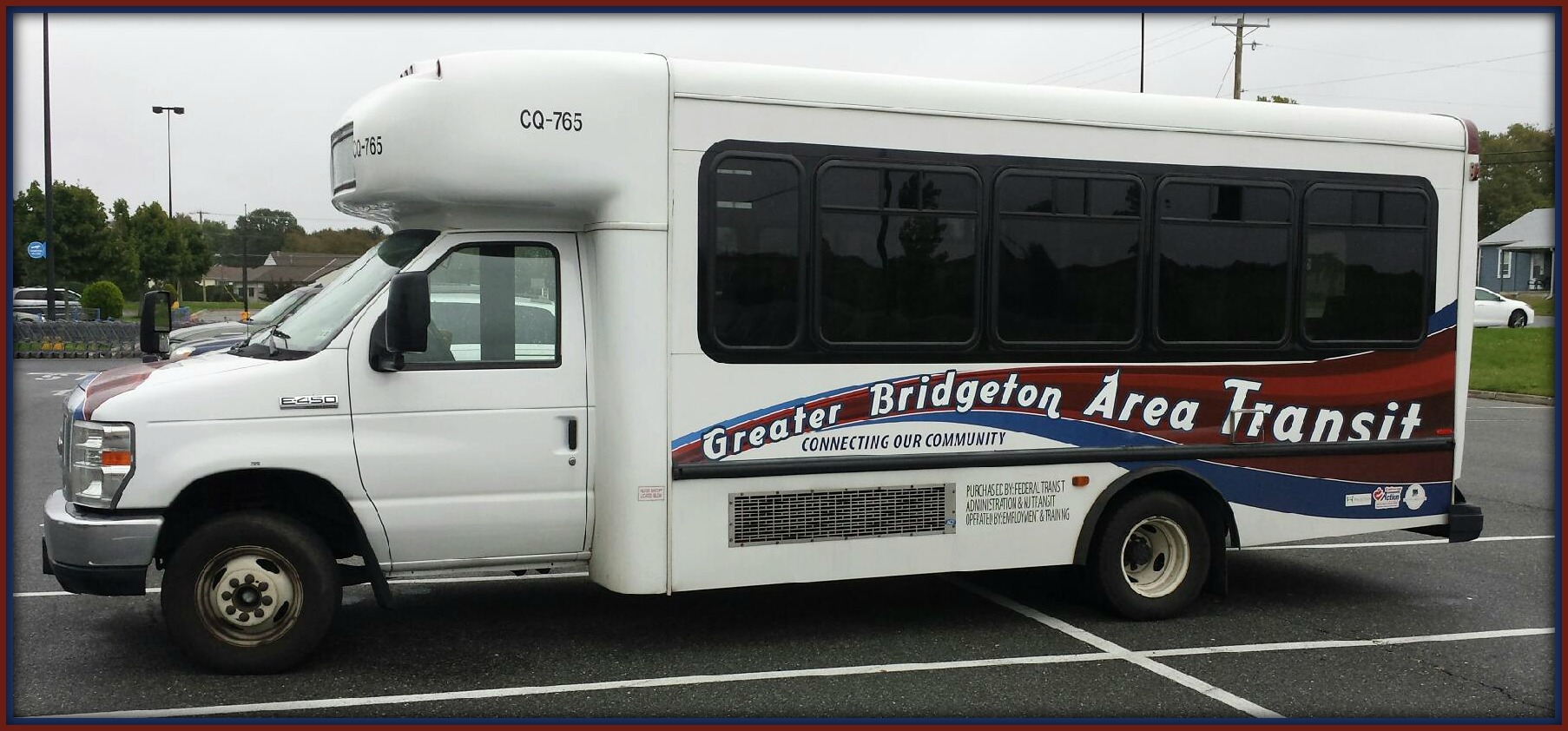 Bus service now runs 6 a.m. – 6 p.m., M–F. This service is now open for all residents over the age of 8 (8-17 must be accompanied by parent/guardian) for any transportation related need!
For more information, call (856) 696-5660 x3001

Greater Bridgeton Area Transit program is a hybrid collaboration between public and private partners and for-profit and non-profit entities from different backgrounds to achieve the common goal of improving the lives of individuals and families. It is is funded in part by The Pascale Sykes Foundation, NJ TRANSIT, JARC, Glen Park, Cumberland County Guidance, Revive SNJ and many others.
The success of the expanded GBAT bus route through downtown Bridgeton out to commercial areas in the northern suburban sections is the result of planning between Gateway CAP, a community based social service organization, the Cumberland County Department of Workforce Development, a county-run entity focusing on work readiness and employment opportunities.
In a collaborative effort we have come together to benefit the "Greater Bridgeton Community", private agencies, clergy, and community working toward the common good of all.
Where Does the Bus Stop?
A full schedule is posted to this mobile friendly website. Look for the Greater Bridgeton Area Transit bus sign around town.
When Should I Arrive at The Bus Stop?
Arrive at the bus stop 5 minutes before the scheduled time to ensure you do not miss the bus.
How Much Does The Bus Cost to Ride?
The suggested fare donation is $1.00 per one-way trip, per person. We appreciate your help keeping this service going.
Is the Bus ADA Compliant?
Yes. The bus is fully ADA compliant and wheelchair accessible.
Are Service Animals Allowed on the Bus?
Yes. Your service animal is welcome on the bus.
What If the Bus Doesn't Stop Where I Need to Go?
Route deviation services are available to stop at an alternate location. Requests for route deviation must be made through the transportation coordinator at (856) 451-8920 during normal business hours. Reasonable accommodations for individuals with disabilities may be requested by calling (856) 451-8920 during normal business hours.
Does the GBAT Bus Connect to Other Public Transportation Services?
Yes, The bus connects to the following public transportation services:
NJ Transit Route 553

NJ Transit Route 410

Landis Avenue Xpress Route